Influencer marketing is a strategy that involves brand endorsements and product recommendations from individuals, or content creators, with a significant following and are acknowledged as experts in their niche. While influencer marketing is no longer a new concept, it is ever-changing and getting all the rage these days.
So, why does influencer marketing matter?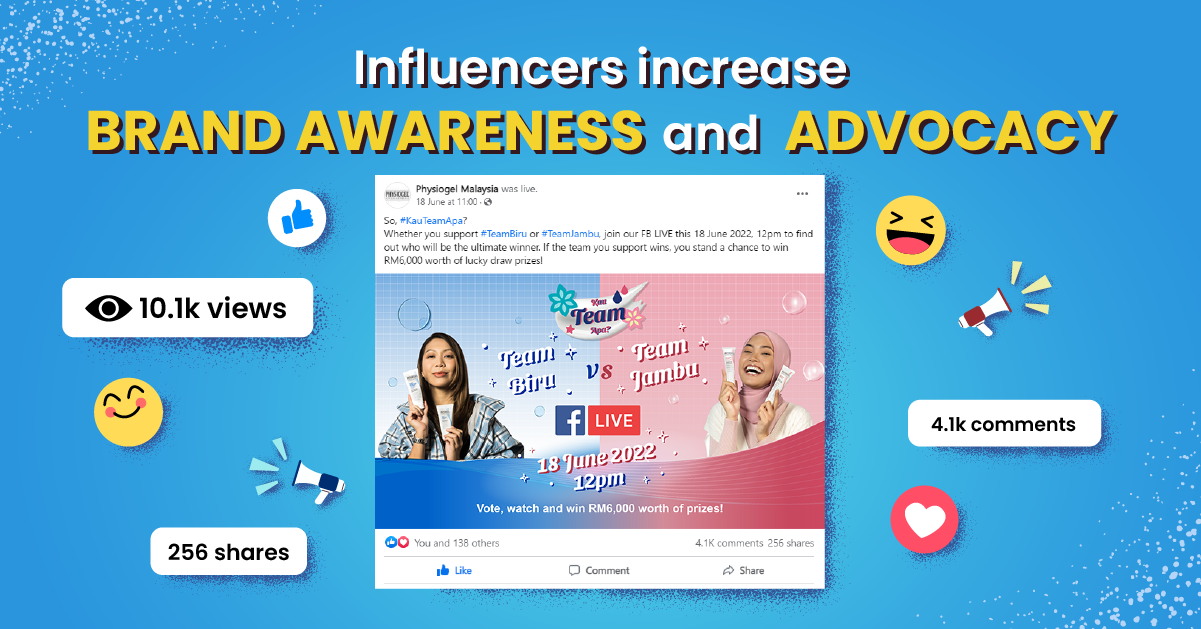 One of the benefits that influencers provide is that they increase your brand awareness. It is becoming more important than ever to develop strong influencer relationships and collaboration who resonate with your brand goals and direction in order to create content that aligns with their followers' values. Why? Because over 51% of marketers regard influencer marketing as a means to acquire better, higher quality customers1, and this potentially results in stronger brand recognition as well as advocacy.
Just like how we collaborate with Hunny Madu and Nisa Kay for our Physiogel Kau Team Apa? campaign this year2, where both influencers are required to each represent Team Biru and Team Jambu in a Facebook LIVE, advocating the blue Physiogel Daily Moisture Therapy range and the pink Calming Relief range respectively. Considering Physiogel as a new skincare range amongst the Malay community, engaging Hunny Madu and Nisa Kay, both with their respective niche and exclusive followers, allow Physiogel to penetrate to the community with a stronger voice to boost brand recognition.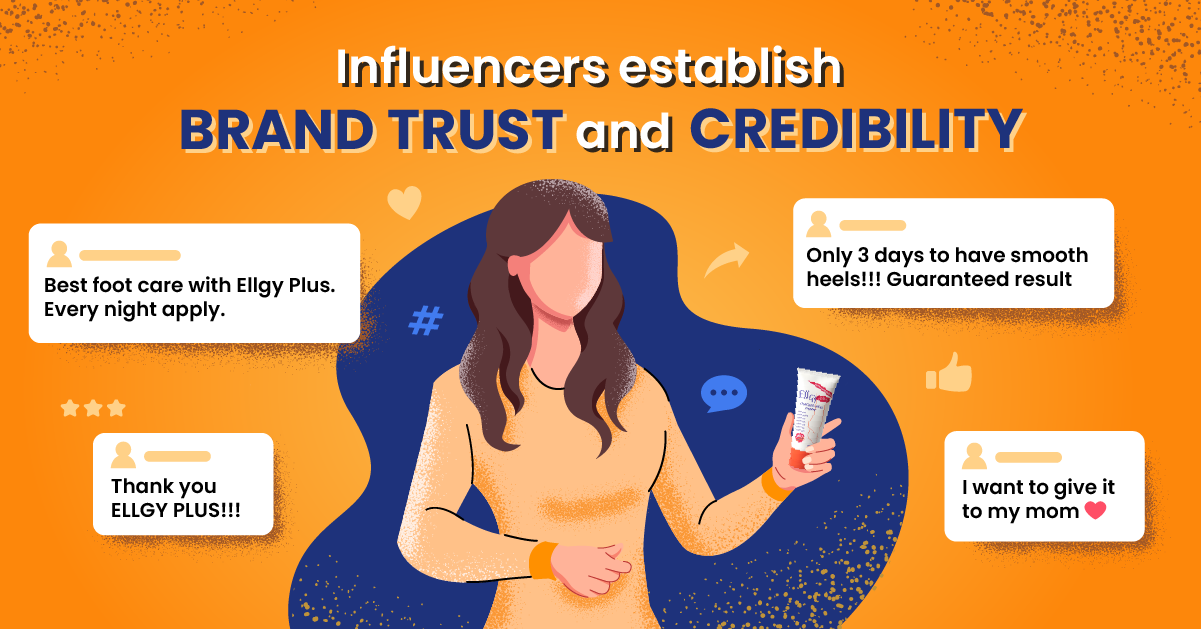 Next, a proper use of influencers can also help build brand trust with consumers. In this day and age, consumers have unlimited freedom to follow certain trends and choose the content they prefer, making it harder for brands like yours to reach audiences who may be sceptical of your marketing tactics. But, engaging influencers allow your brand to locate target audiences directly and promote through someone whom many trust, engage, and follow on a daily basis. Research shows that 83% of consumers have assurance and prefer recommendations from influencers rather than traditional advertisements3, reflecting the reality that if consumers have confidence in the endorsement from their influencer of choice, they are most likely to extend their trust to a brand.
During the Hari Raya season last year, we partnered with Ellgy Plus to run a Raya livestream, where we invited Intan Ezreena, a TV3 news presenter with a significant following, to share about how she copes with work and family while keeping up with self-care4. Ezreena was a sound choice for Ellgy Plus Raya livestream because as she explained the effectiveness of the products and shared her personal experiences, we noticed an increase of 47% post engagements, with most users agreeing to the benefits of the product or relating to Ezreena's sharing. Considering her as an actual user of Ellgy Plus products, who is also a trusted news presenter, she was able to engage with users of various races in a dependable manner while relaying the brand values of Ellgy Plus—that is to care for everyone's feet health and overall wellbeing.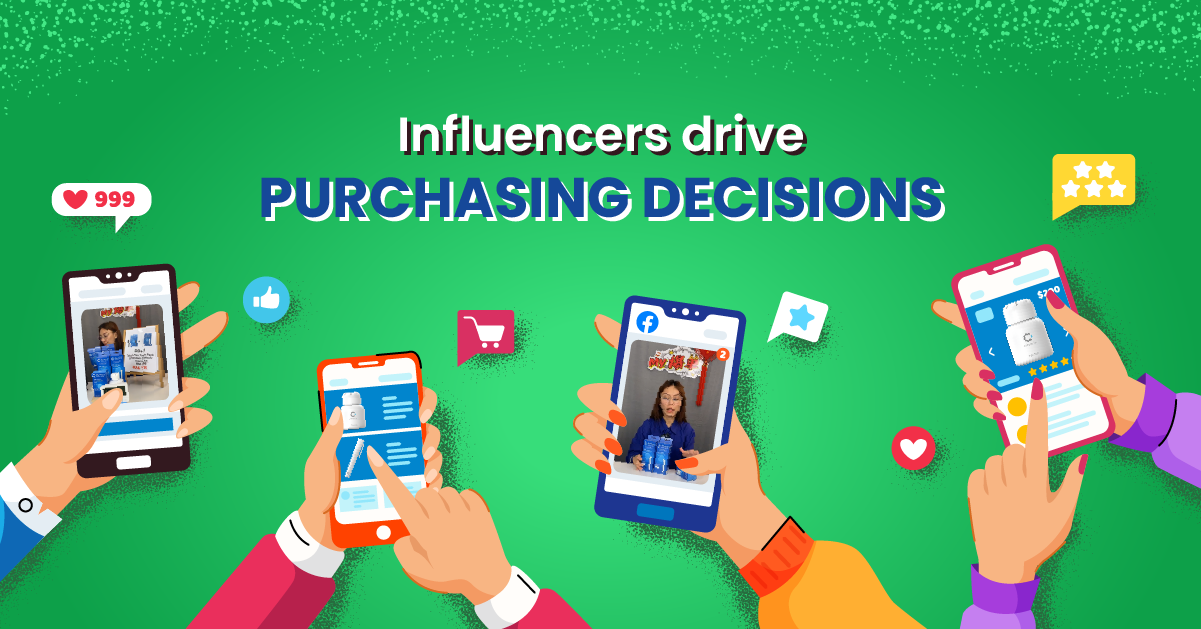 Last but not least, engaging with influencers can drive consumer purchasing decisions. According to a survey on social media influencers conducted by Rakuten Insight in October 2020, 59% of Malaysian respondents stated that they purchased a product because it had been endorsed by an influencer5.
Cleverin, one of the clients partnering with WEBQLO, also uses influencer marketing to enhance their post performance through livestreams on Facebook. This year, Cleverin engaged Mei Yan from My BAO DAN for multiple livestreams, with one of them gaining about 33,000 views6 and strong engagement from the viewers! During the livestream, Mei Yan explained the benefits of Cleverin and how she uses the product herself, while highlighting any ongoing promotions as an avenue for consumers to purchase. This resulted in sales for Cleverin products, along with positive user sentiments as many gained clear product knowledge while relating closely to Mei Yan's sharing on product benefits and usage.
Use influencer marketing to expand your brands moving forward
In short, influencer marketing helps brands increase awareness, helps your brand build trust and they can direct purchase choices. Influencers' voices are louder and valid compared to sales people, because influencers use the product and they can explain the benefits of using them. Interested in engaging with influencers and marketing agencies? Contact WEBQLO now!