Say Hello To The Hottest,
Most Exclusive Audio Podcast In Town!
Clubhouse is the latest, most trending audio podcast that has been the talk of the town since its launch in April last year. The app was developed by Silicon Valley entrepreneur Paul Davison and ex-Google employee Rohan Seth and it currently has 6 million registered users to date.
It's an audio-based social media platform that allows you to join various podcasts, chats, and discussions based on your interests. This new app sells its reputation through its exclusivity, whereby you have to get an invite to be on it!
As of now, only iPhone users will get to rave about it as it's only available on iOS (hang in there, Android users).
Elon Musk sparked the flame when he hosted an audio-chat on Clubhouse with the CEO of Robinhood, Vlad Tenev, in January this year. Since then, celebrities, politicians, entrepreneurs, and influencers have caught on to the trend pretty quickly.
We'd like to think of Clubhouse as Mr. Right Place At The Right Time. With people spending more time at home during the pandemic, this app has become a platform where people could interact in real-time conversations, exchange thoughts, and expand their connections all in the comfort of their own homes.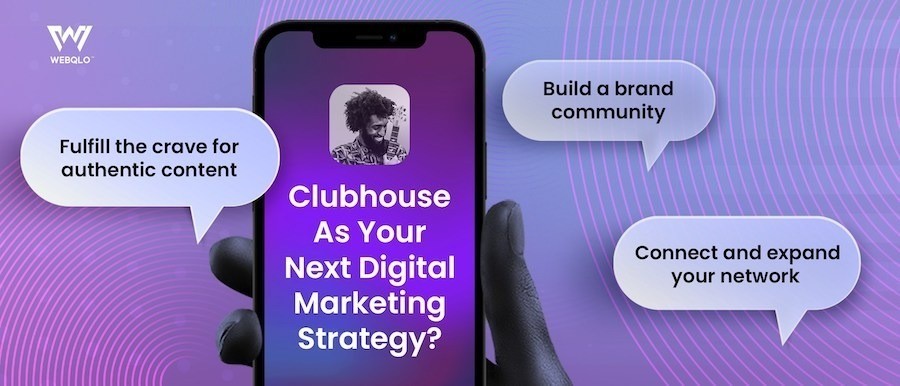 Should Clubhouse Be Part Of Your Next Digital
Marketing Strategy?
What gives Clubhouse an edge over the other social media platforms is how the consumers are given a chance to be in the same chatrooms with major players in different industries. With that, this platform could be used to build a community where professionals and key opinion leaders (KOLs) gather to share their thoughts, engage in discussions, and express themselves along with the consumers.
Fulfill The Crave For Authentic Content
The current pandemic has encouraged internet users to turn to social media for current events, entertainment, and news. Riding on social media trends is always a good way for brands to stay trendy, which allows the consumers to discover new ways to engage and interact with them.
The consumers crave authentic content and they value brands that are transparent and real with their consumers because this allows them to feel like they are part of the brand. With Clubhouse, brands will be able to engage with the consumers through valuable, real-time conversations that allow them to connect with brands in a more in-depth manner.
Build A Brand Community
Brands have a variety of formats to engage with the consumers, and each platform serves a different purpose. For example, Facebook is used to create brand awareness, Instagram to build a community of loyal fans who love the brand, TikTok to ride on trends for authentic video content creation, and YouTube to channel commercial advertisement exposure.
VR and AR have become a thing of the present as brands are finding new ways to connect with consumers during the ongoing pandemic. The crave for real-time content has been proven true when Facebook and Instagram live delivered astonishing results for many brands. Clubhouse will be a good platform to look into if brands are thinking about doing virtual events and seminars; it could be the 'something new' that brands have to offer.
Connect And Expand Your Network
Building a loyal fan base that will love and support the brands for who they are is crucial. When you have a brand that wants to communicate with the consumers on a personal level, Clubhouse could be a platform for you to tell your brand story, provide valuable company insights, or even exclusively launch a new range of products.

Two-way communication is often encouraged so the consumers can connect and relate to the brands. When brands give consumers a chance to be heard and be part of the brand, this allows the consumers to build confidence, establish trust, and grow loyalty towards brands. Clubhouse gives brands exposure to such, where they will be able to host live discussions and consumers can connect with the brand on a more transparent note.
Clubhouse Takeaway
With Clubhouse being the talk of the town, it will be good for brands to look into exploring a new platform for fresh ideas and content format. If your brand decides to hop on the bandwagon, you will need to strategically plan the execution. Will Clubhouse be the next big thing in social media? Only time will tell if it's just a trendy phase or if it's here to stay.
New social media trends could be part of brands' digital marketing strategy as they leverage on the hype to expand the brand, make new connections, and satisfy the consumers' crave for the 'something new' that brands have to offer.
If you're looking into amplifying your digital marketing efforts or thinking about creative new ways to promote your brands, we're the agency for you!