You might have heard of our usual websites, but have you ever stumbled upon a microsite and wondered what the differences are? Microsites are essentially a sub-site derived from a company's main website, but differ in terms of creative content. Instead, it contains campaign-specific keywords and visuals commonly used to promote services and announce launches.1 The goal of a microsite can range from raising awareness to building brand trust—making it a powerful tool that supports brands in achieving campaign objectives.
Why are brands using microsites?
There are many reasons why brands all over the world are recognising the benefits of microsites and utilising them in their campaigns. Let's take a retail store for example, a dedicated microsite helps the brand highlight their recently launched product, this could ultimately mean an enhanced shopping experience for your audiences.
Besides that, an interactive microsite also keeps your audiences engaged while providing a memorable experience. There are many more benefits associated with investing in a microsite, such as increasing awareness, boosting SEO, building customer loyalty, and more.
Want to know how to get the best out of your microsite?
1. On-point branding
The goal of microsites is to stand out from the brand's primary websites. It should visually represent your brand with creative content and design that will enhance your audiences' overall experience, and get them acquainted with your brand. Your content strategy should be positioned in a way that effectively communicates your brand's value and what you are offering to your target audiences. Be sure to make use of your audience data and insights (topics on Google Trends and commonly searched keywords etc) while developing your branding strategy,2 and include proper use of brand elements, logo, and colours with clear, actionable headlines. These changes can help drive audiences to your website and connect with you at the right time.3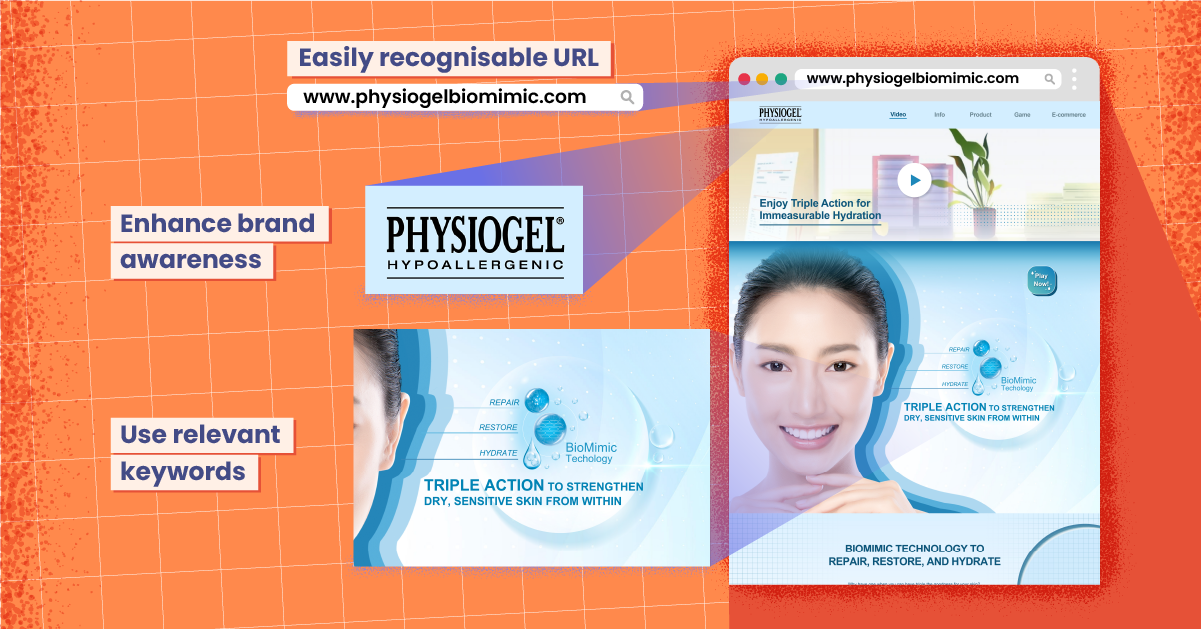 Take Physiogel's Triple Measure for Immeasurable Hydration microsite that we did, for example, it is developed to reflect the campaign message—which is to provide hydration for dry skin. From the keywords to the playable game characters, Physiogel's microsite content focuses heavily on "hydration" with proper uses of water droplets and brand keywords like "repair, restore, and hydrate", thus making it easier for the audiences to differentiate the key message on the microsite from others.
2. Become data-driven
Microsites are commonly used to generate website traffic and drive conversions, and tracking these actions across the user journey can be beneficial in identifying audience interests and behaviours, especially when the microsite tracks certain desired actions, such as making a purchase or registering for a contest. Any data collected from your microsite, like whether your audiences are scrolling to the bottom of the site or completing a desired action, are valuable insights that allow brands to determine and optimise content, product, or call-to-action placements on the microsite to drive stronger results.4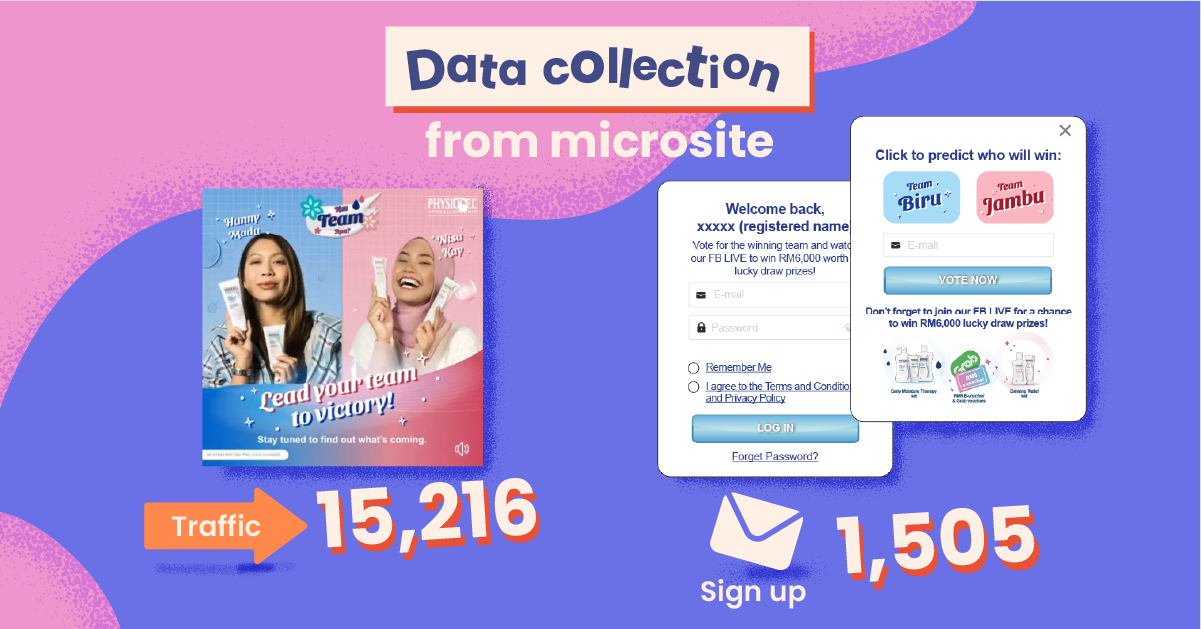 An excellent place to start is to include tracking tools that collect and store user activities on your microsite. There are a variety of tracking options, such as click tracking (the page elements users click on), scroll tracking (how far users scroll through a page), and more.5 For example, Physiogel's latest #KauTeamApa campaign microsite, we used data collected from the heatmap to determine which sections received the most clicks, helping us fully optimise the content for each section to capture audiences' attention throughout the campaign.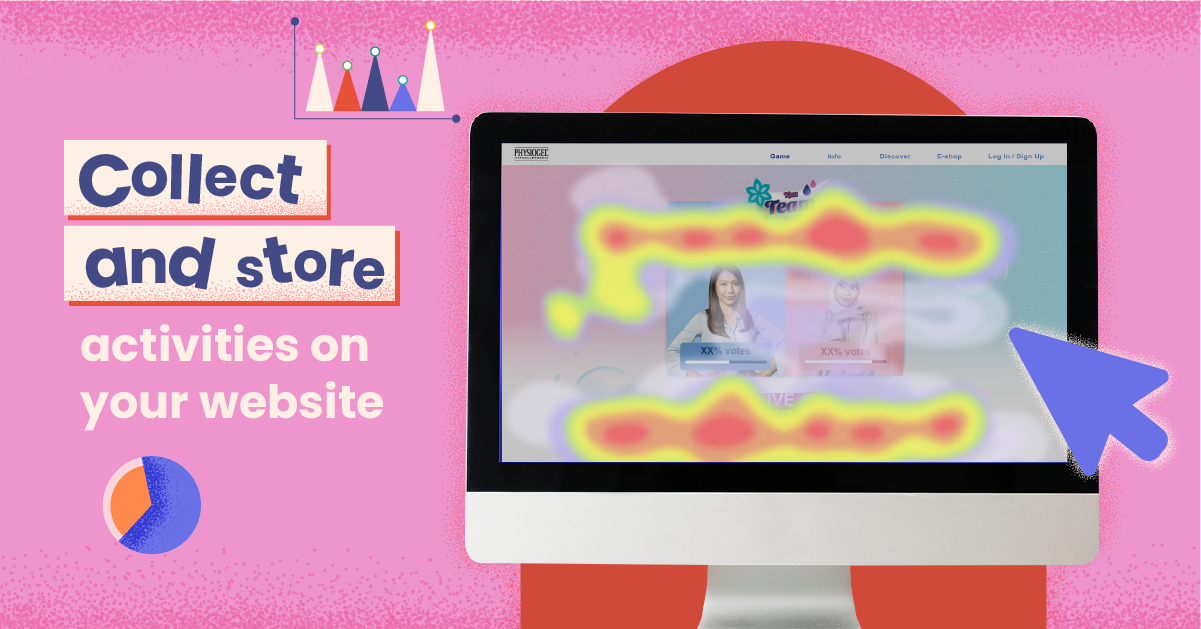 3. Don't forget about UX/UI
The user experience (UX) of a microsite can be defined as the process of curating relevant user journeys for audiences. It is about understanding what your target audiences need to take the desired action.6 A good UX, when designed with a good user interface (UI), allows a seamless and easy-to-navigate experience on the microsite. A high-functioning UI includes interactive visual elements, such as buttons, icons or other elements that contribute to the usability and the findability of information to meet the user's goals and needs.7
For example, we designed the UX and UI of the Ellgy Plus Jump To Prosperity microsite to provide exciting and interactive user experiences—by introducing a simple game with clear instructions and prominent design layout, along with proper uses of visual elements like typography, icons, buttons, and animations that fit the Chinese New Year theme. We also included an additional feature for users, aside from playing the game, to upload proof of purchases to increase their chances of topping the scoreboard, and these features have kept audiences engaged while encouraging recurring microsite visits.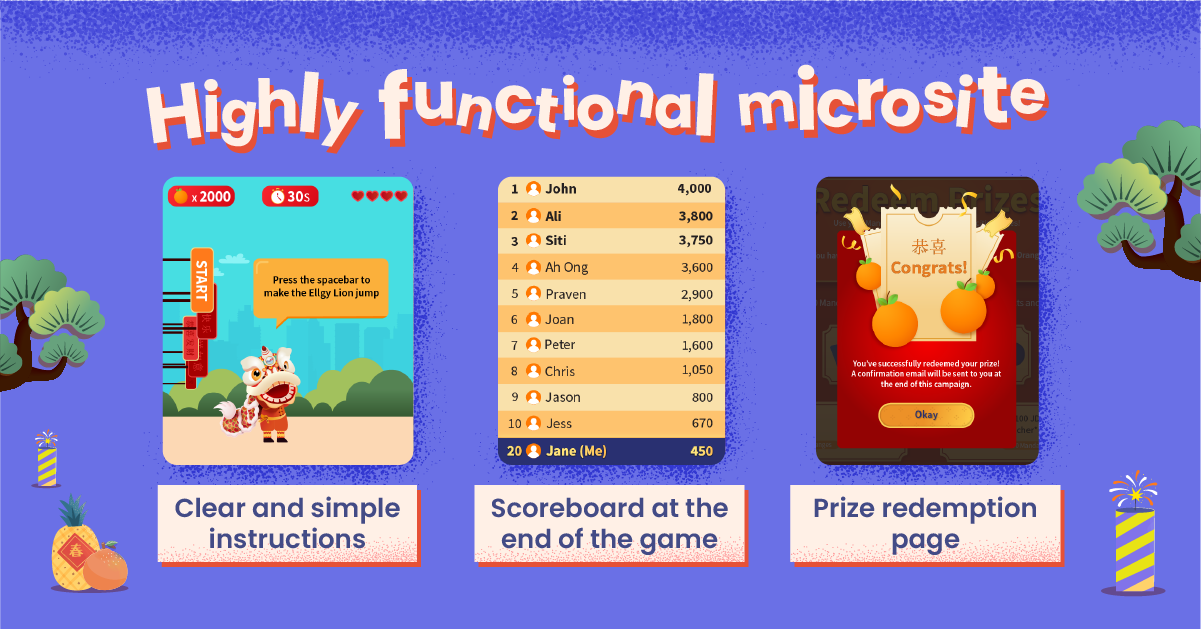 Conclusion
Microsites are powerful marketing tools that can give your brand and campaigns an extra boost. Whether it is to give your audiences an entertaining experience, raise awareness about a new product, or an initiative to establish brand trust, optimising your microsite is crucial to maximise any engagement with your audiences to achieve marketing goals.
From Chinese New Year prize redemption to interactive Christmas games and season product launches, WEBQLO is no stranger to creating microsites that are functional, engaging, and most importantly, fun! Want to know more? Contact us now.