Have you ever wondered what people think about you? Thanks to the era of the internet, it's now easier than ever to find out, especially through social media. People's thoughts and opinions can flow unfiltered, which is what makes the internet amazing yet scary at the same time.
As a brand, these unfiltered comments create a huge opportunity called social listening. As the name implies, it's all about listening to your audience on social media by tracking for any mentions about your brand, analysing these mentions, and taking the right business actions.
The Importance of Social Listening
Social listening is something like a healthy relationship. You want your partner to feel heard and see that you're willing to improve, which is the same thing for your audience. This way, you'll foster a meaningful relationship with them which in turn, creates brand loyalty.
All right, we know, these facts might be pretty obvious to you. But if you start conducting social listening, you might uncover even more insights than what you initially thought. To better explain our point, let's look into…
The Announcement of MCO SOPs in Malaysia
When the Malaysian government announced that they were updating their MCO (Movement Control Order) SOPs (Standard Operating Procedure), it made people anxious. With Raya around the corner, will they be able to balik kampung? What do they think about the implemented SOPs?
On 27 April 2021, the Malaysian government finally announced the new SOPs, and one of the SOPs was people are not allowed to travel to other CMCO areas. Currently, the latest update on 4 May 2021 is a 12-day lockdown for certain districts.
Naturally, a lot of people wanted to balik kampung for Raya which got us curious: what do the people feel about this travelling restriction? So we decided to conduct our own social listening.
We used Adqlo, our very own social media intelligence platform, to crawl the comments specifically for posts about the government announcing the SOPs. To narrow down our scope and get the most genuine comments, we decided to analyse the comments from a few local news outlets' Facebook accounts such as:
Astro Awani

Berita Harian

China Press

Harian Metro

Malaysia Kini

New Straits Times

Sin Chew Daily

The Star

World of Buzz
Do Malaysians Want to Travel?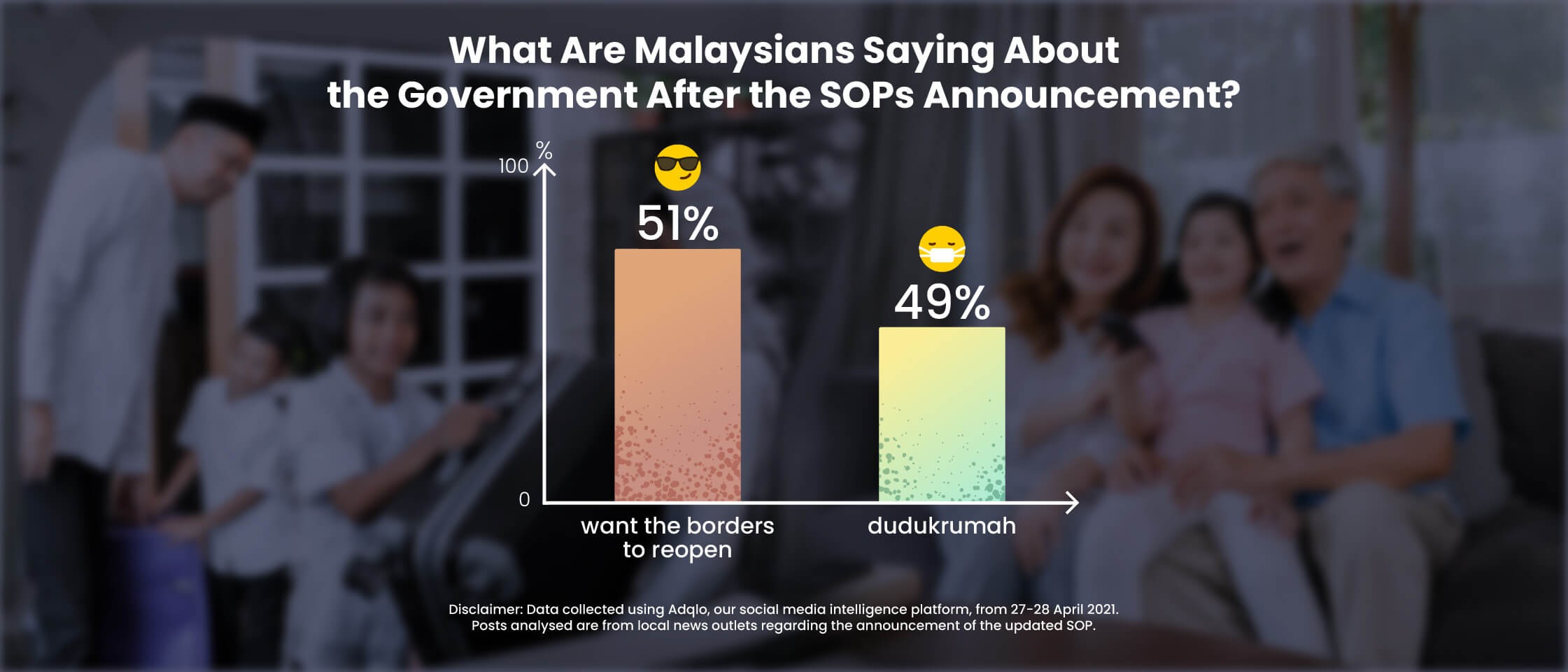 Disclaimer: Data period 27 - 28 April 2021
Despite the pandemic, most Malaysians still wanted inter-state travelling to be permitted so that they can travel back to their kampungs. This is shown from the word cloud below with keywords such as "sempadan," "rentas," and "negeri" appearing rather frequently.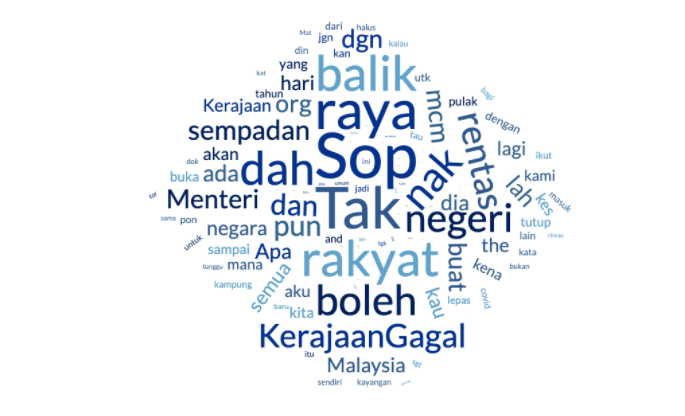 Disclaimer: Keywords crawled using Adqlo.
Most of the comments feature keywords such as "tak," "SOP," "raya," "boleh," "rakyat," and "balik." When we went through the comments with these keywords, they can be summarised into a few points:
How they wish to balik kampung for Raya

Questions about why the ministers can travel but citizens can't

Criticisms towards the SOPs
Sentiment Towards the Government
Remember when we mentioned in the beginning that with social listening, you might uncover even more than expected? During our research, we noticed one hashtag that stands out: #KerajaanGagal. When we saw it, we knew something was up so we analysed the overall sentiment towards the government.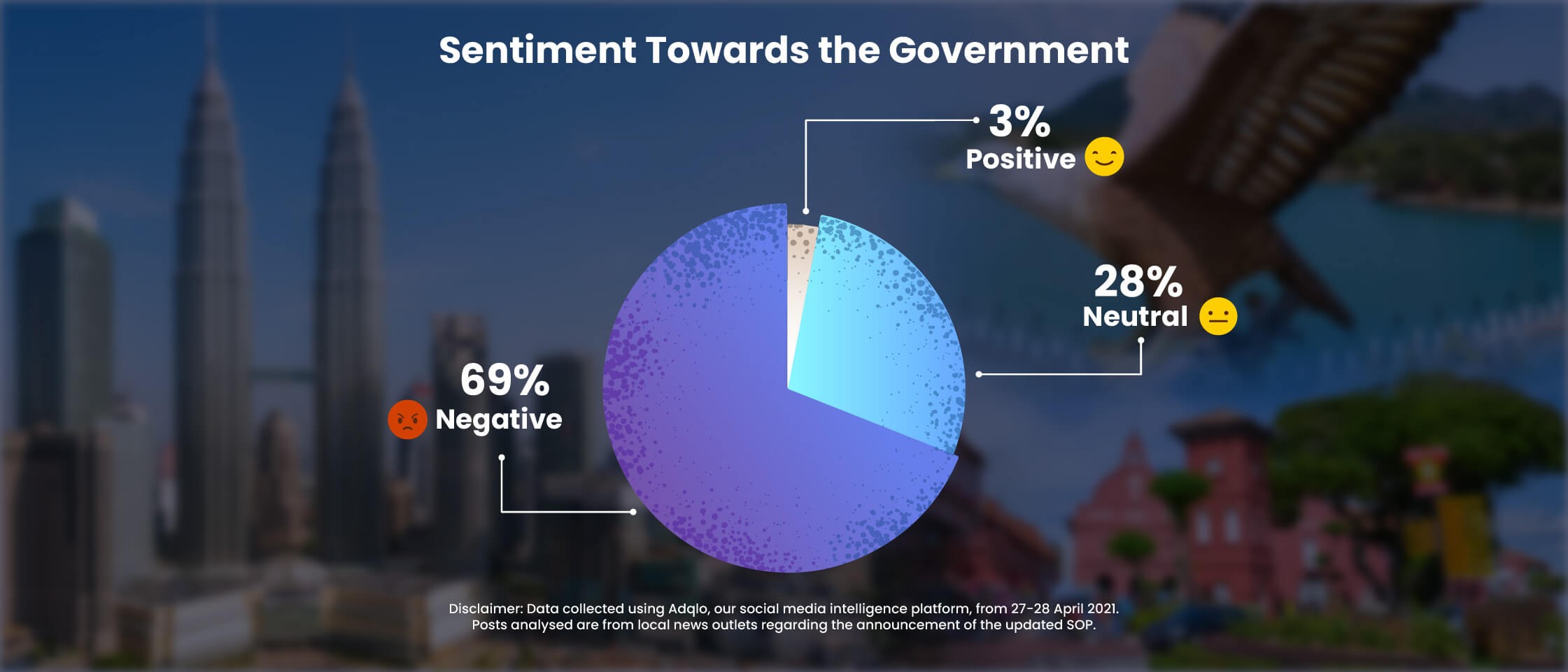 Based on the 69% of negative comments, there are 3 points that are constantly repeated:
How the government handled the pandemic badly

Unfair treatment to the locals compared to the ministers

Refusal to vote for them in the next election.
The Conclusion
When it comes to making decisions, social listening will help as a guide in addressing people's concerns and making them feel heard. But no matter what decisions are made, our research has shown that it's important to treat everyone fairly to avoid backlash.
If you're looking to find out what's your brand sentiment online, we'll help to investigate using social listening for you!