There was cheerful chatter all around as we virtually gathered for our August Town Hall. It's been so long since all Webqlorians gathered together and we were all excited to see each other's faces again! There were also new faces among us and we're glad we finally got to "meet" some of the people who recently joined the Webqlo team.
Our CEO, Ginz Ooi, kicked off the town hall by personally introducing each newbie and welcoming them to Webqlo. With 11 new faces joining the Webqlorians, we can't wait to start making some digital marketing magic together.
Moving on to the next highlight, we all know that Webqlo has 7 core values and how important it is to internalise them in our daily work life. As Ginz said, how we can progress as a company is by keeping these core values to heart. Hence, that's why we had a special appreciation announcement: MVPs of The Quarter!
Ginz was proud to highlight these MVP employees who successfully embodied Webqlo's 7 Core Values and went the extra mile in their work. And in the first batch, they are… *drum rolls*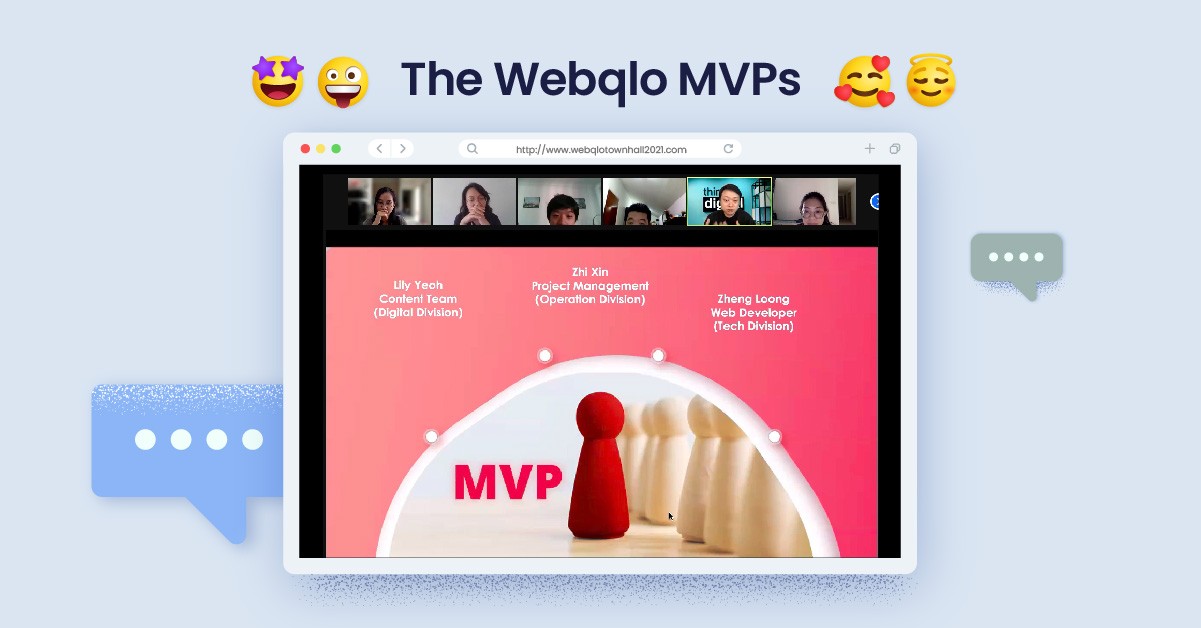 Digital Division: Lily Yeoh

Operations Division: Zhi Xin

Tech Division: Zheng Loong
Congratulations to our MVPs! We're so proud of each and every one of you. Don't forget to share your special reward gifts with us, okay?
During the Town Hall, Ginz further spoke about the future of digital marketing and about Webqlo. Read on to find out his thoughts and learn where Webqlo is heading!
Webqlo's Present and Future
1. How do you envision the future of digital marketing?
We envisioned that the future of digital marketing is definitely revolving around data. When platforms such as Facebook, Alibaba, Taobao, and Instagram came out, we noticed the marketing landscape was changing and moving towards data-driven marketing.
Before these platforms, we had to rely on instincts. Now, we are able to track almost every single thing, such as clicks on an advertisement and how many seconds our audience stays on the screen. No doubt, creativity and content still play an important role in every kind of marketing. However, with insights gained from data, we can make fewer mistakes and get a higher return in every campaign.
2. What's the market situation right now?
In the past 6 months, many of our clients had been reducing their market spend significantly. Most of them were moving their budget to sales-driven campaigns that drive traffic to Lazada and Shopee in order to increase their online income. However, it's not helping a lot as they have to give a portion of their sales to these platforms, which causes them making less money and having to cut their expenses.
For Webqlo, this move from our clients initially affected us but we understand that it's necessary due to how the MCO affected us. However, after 6 months, we managed to bounce back up by building stronger relationships with current and new clients.
3. Where do you see the future of Webqlo?
I think the future of Webqlo is just like how people see Malaysia in badminton. We may or may not be the biggest champion in this industry in the world, but we definitely will get at least a silver. But everything highly depends on the team. When everyone has the same goal, we can grow fast and stay together for a long time.
Currently, the biggest goal we want to achieve in the next 5 years is setting a standard as a Malaysian Marketing and Tech company especially in South East Asia, and we aim to make an impact in this industry.
4. What can the Webqlorians do to achieve that vision?
Internalise the 7 core values of Webqlo. If you believe in these 7 values and practise them, I believe that we will improve and achieve that vision for Webqlo.
It may sound cliche or like it doesn't make sense, but that is how we built this company from ground zero into the growing company it is today. And this comes from the grit and determination of our people based on the 7 core values that we believe in. Believe in us, the company direction, and our values, and the rest will follow.
5. What is Webqlo doing for the employees during this unprecedented time?
We've been in lockdown total for about 500 days since last year, and this lockdown hits especially hard. We can see the amount of mental stress it puts on our people as they need to stay home, and some can't meet their family or loved ones for months.
In order to lift the spirits of Webqlorians, one of our initiatives is to create a monthly care package. It is a way for us to do a small gesture to remind the team they are cared for and we will get through this tough time together. Although it's an additional expense, I believe this is something everyone deserves, and that's why we're doing this as a company.
6. How do you stay motivated?
I would say it's my commitment. My commitment to the team, and what we can achieve if we all work hard. All these people put their faith in me, and so I put my faith in them. This commitment to each other then turns into my motivation to fight hard during MCO.
We can't wait to venture into the future of digital marketing. Who knows? Maybe Webqlo will become the new standard in digital marketing soon. Watch out world, Webqlo is coming for you!
And for all your digital marketing needs, we're here for you.